A lot of people want to wear something special to security conferences, be it a witty new t-shirt, a flashy electronic badge or a creative homemade wearable. Nail designs are a fun, feminine way show off your technical interests.
Circuit Board Nails
Nothing says 'hardware hacker' like populating a circuit board while sporting circuit board nails. Several nail bloggers have posted different designs for circuit board nails.
More Nail Polish has posted this design made with a nail stamping kit.
Meanwhile Break Rules, Not Nails upped the ante by adding real components to the design.
(But be careful, the metals in components can harm you if you put your nails in your mouth and are sharp too!)
Finally, if you want to save time, Espionage Cosmetics sells circuit board nail wraps with easy application.
Super cute circuit nails!
Vulnerability Logos
Want to show your enthusiasm for the latest vulnerability disclosure? Want to make an ironic statement about the proliferation of vulnerability names? Either way, vulnerability name nails are for you!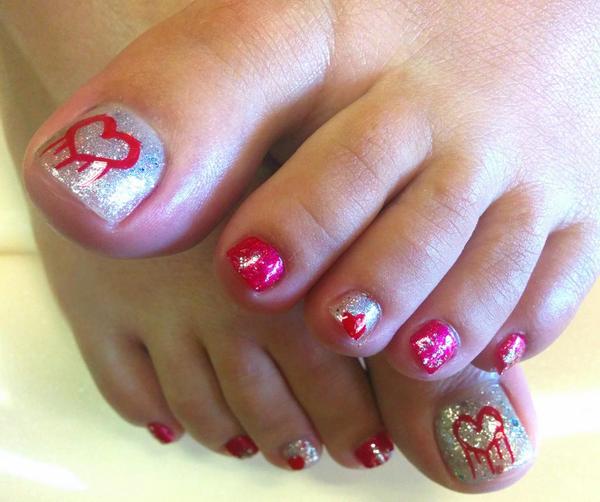 I wore these nails to BlackHat in 2014 and saw a lady with Stagefright nails the next year. Sadly, I didn't take a photo.
Krome Nails
Want nails that emanate cyberpunk? Try Krome It gel nails. Krome it is a powder that your manicurist layers over a regular gel polish to give it a multicolor sheen. Green powder over purple polish is my favorite. Super futuristic!
Pre-painted Acrylics
Don't have the time, skills or cash to do your own nails? Pre-painted acrylic nails can be the solution. They come ready to glue onto your natural nails, and can be reused up to ten times. Perfect if you want cool nails for just a few hours!
UPG is a great source of pre-painted nails, including these unicorn talons.
Static Nails also has a number of excellent pre-painted acrylics. The gentleman in the photo is wearing the Red Bottoms style, a stylish twist on Hacker Black.
Magnetic Nails
At 32c3, I met a lady who gives leading-edge manicures. She is a jeweler who spends a lot of time thinking about questions like "what jewelry will we wear as technology makes our bodies less relevant?" She gave me a magnetic manicure, which essentially gives you an extra sense as it allows you to feel the pull of metal objects near your hands. It's also convenient for picking up small objects. Pretty and useful, this is the manicure of the future!